INSIGHT Inventory Team Map
Team Member's INSIGHT Inventory Profile Shapes on One Chart
Engage teams in better communication and effectiveness
The INSIGHT Inventory Team Map provides a visual overview of a team's INSIGHT Inventory profile results on one chart. Team members visually see each member's profiles and the similarities and differences and gaps or clusters. This creates open discussions around team dynamics; how it impacts the team and strategies for better communication and improved team effectiveness.
A Team Map requires each member complete one of our INSIGHT Inventory Self profiles first and then a Team Map can be generated for the team.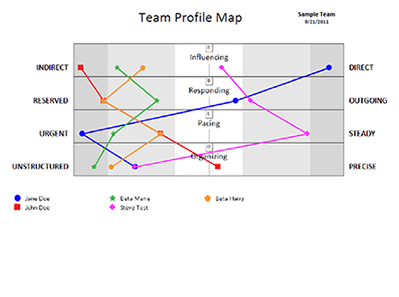 INSIGHT Inventory Team Map

Online Report
$19.95 ea. Purchase
1-page
Complete assessment online with electronic scoring
View and print reports on demand
View Sample Report
Facilitator Resources
Get started immediately. Use our facilitator resources to conduct impactful training sessions using the INSIGHT Inventory Team Map.