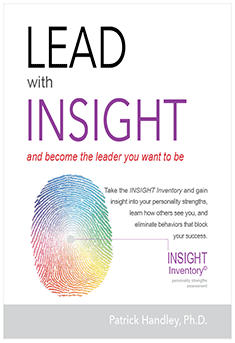 Lead with INSIGHT
and become the leader you want to be

Paperback
$24.95 ea. Purchase
An access code is included in the back of the book to complete the INSIGHT Inventory online and receive the SELF Narrative Report
Discover the Key to Effective Leadership
Dr. Handley's new book takes an in-depth journey into our personality strengths and self-awareness. He outlines how the perception of ourselves and other people directly impacts our communication and leadership style.
The book includes an access code to complete the INSIGHT Inventory online to discover the personality traits and strengths that are unique to each of us.
Throughout the book we learn about each of our traits with in-depth descriptions and real-life examples that expand our understanding. In each section on the four traits, he outlines our strengths in detail which takes our self-awareness to a deeper level.
As we proceed on the journey we learn the importance of how our behavioral style comes across to others. We discover that even in good relationships misconceptions about our styles occur. When we recognize and understand people's perceptions, and learn to adapt our style to others, we will communicate better and strengthen relationships.
The end of the journey focuses on what moves us out of our strengths and derails our success. We have all heard the saying "it's not the problem but it's our reaction that causes the stress." Reactions, whether they are stress related or from an old trigger, cause us to move out of our strengths, overuse our styles, and often leads to conflict. Learning to recognize we are getting pulled away from our strengths and creating an action plan to alleviate the reaction, keeps us on the path to success.